Advertising Week is known for its thought-provoking content, presentations by heavy-hitting brands, and big personalities in attendance. This was my first time attending and I was thoroughly impressed. But besides the sessions, there were several exceptional experiences that also deserve to be mentioned.
While I wasn't able to see everything and be everywhere at Advertising Week, here at the top 5 innovative and effective experiences that left an impression on me.
Waze: What's your favorite brand?
This board was such a simple concept – ask people about their favorite brand. But what's impressive is the amount of engagement this board received. People volunteered their favorite brands, even going so far as drawing the logos in colored markers. You have to agree, the logos came out pretty fantastic. Exactly how many artists attended Advertising Week?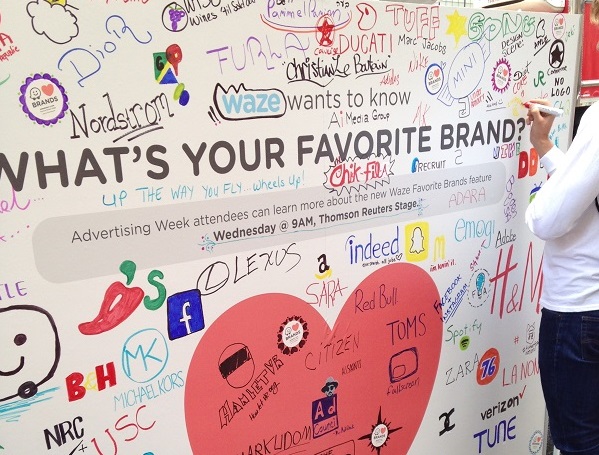 Pinterest: Grab and go ideas for Adverting Week
We often see real-world experiences translated to online experiences, but it's not every day that we see an online experience materialize as a physical, real-world experience. Much like an actual Pinterest board, the real-life one was an excellent source of ideas for out-of-town attendees looking for things to do and see while in New York.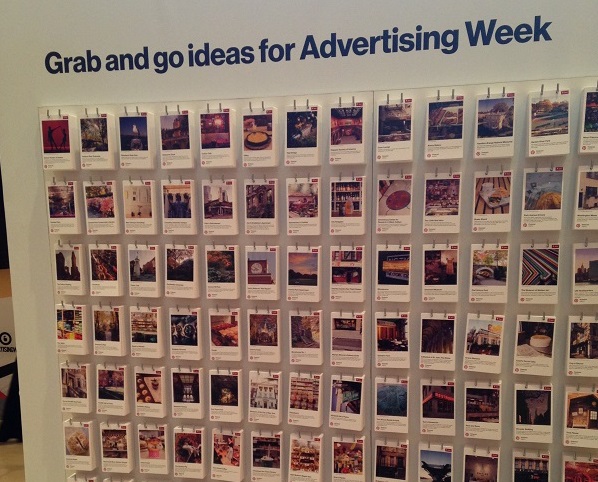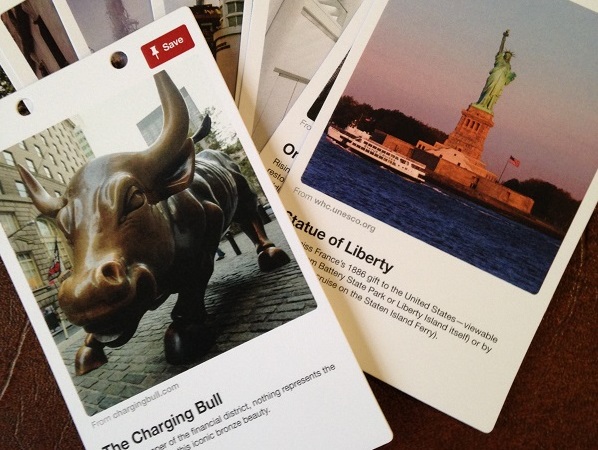 Adobe: Think Tank
This mobile television studio, a.k.a. fish bowl, was pretty nifty. Passersby got to watch as industry thought leaders discussed "The Future of Digital Experiences." The webcast was streamed via Facebook LIVE and the conversation continued on Twitter at #AdobeTT.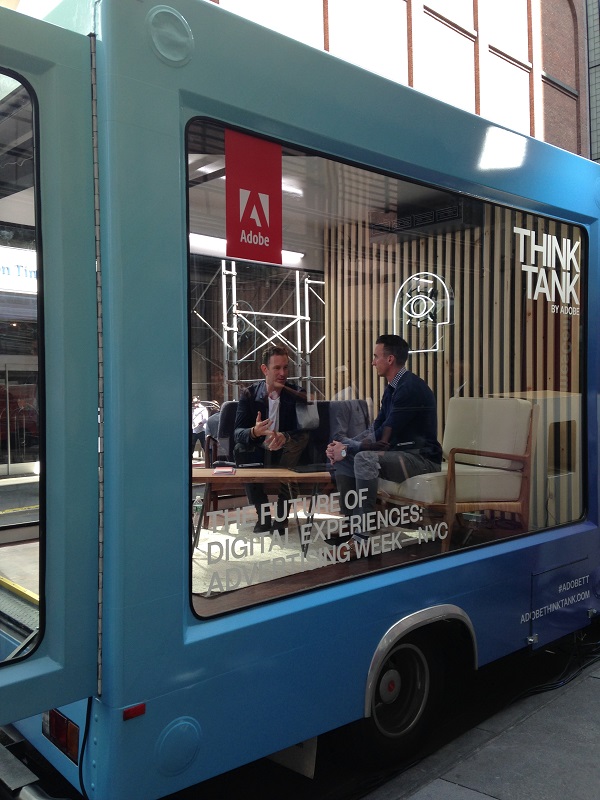 MEC: Brave your bias
The MEC "Brave Your Bias" campaign stands out among the rest with the virtue of a noble cause, bringing awareness to our biases. It's a movement to celebrate differences and bring awareness for cultures:
"Embracing difference is central to our mission of creating a more open and collaborative culture both at MEC and within our industry. We are looking to focus on all the differences people bring that make them unique, and move the conversation beyond only race and gender. We all have bias, whether it be conscious or not, and we want to help people see how unconsciously, they may be filtering out exceptional people by focusing on those who are more like them and therefore bring them comfort. We want to encourage people to be brave enough to acknowledge this and pledge to make a change." — Marie-Claire Barker, chief talent officer, MEC Global
As marketers and advertisers, we make decisions and send out messages every day that impact our industry. Our unconscious biases might inadvertently influence our thoughts, decisions and actions that can stifle diversity. Recognizing theses biases is the first step in changing the advertising and marketing industry; transforming it to be more inclusive and respectful of cultural, ethnic, racial and gender differences.
Besides the worthy message, the Brave Your Bias campaign is also notable for its execution with the perfect mix of in-person and online participation. The experience starts with attendees completing a survey that identifies and makes them aware of their unconscious biases. They then take the pledge to overcome their biases and tweet #IBRAVEDMYBIAS. The group also captured videos of attendees that they then shared on twitter.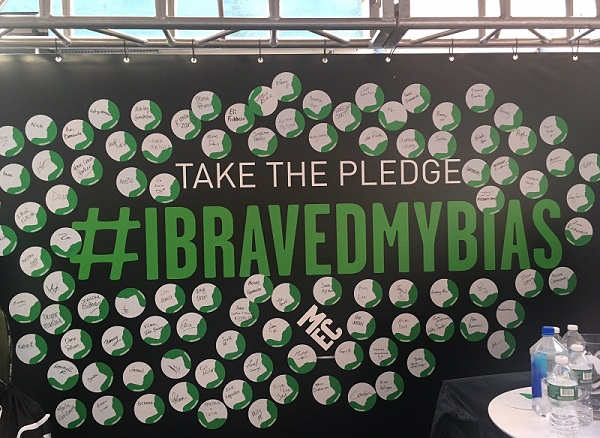 IBM: Cognitive t-shirt pop-up shop
Admittedly, as an IBMer, I have every chance of being biased toward the cognitive T-shirt pop-up shop. I thought about not including it in this list for that reason. But I think most would agree, this experience did top the list at Advertising Week. Even knowing this was coming beforehand, seeing it come to fruition was pretty exciting.
IBM's cognitive T-shirt pop-up shop represents the possibilities of applying cognitive capabilities in a retail environment with the example of fictional retail store. Using IBM Watson technology, a retailer can provide personalized products, in this case a T-shirt, to their customers based on their personality.
The experience starts with the customer completing an online experience answering three questions in their own words (the more words the better) and providing their Twitter handle. Watson then analyzes their responses and Twitter activity to identify their personality type, which corresponds with a personalized T-shirt design. The T-shirts were designed by a graphic T-shirt company that was in attendance printing them on site.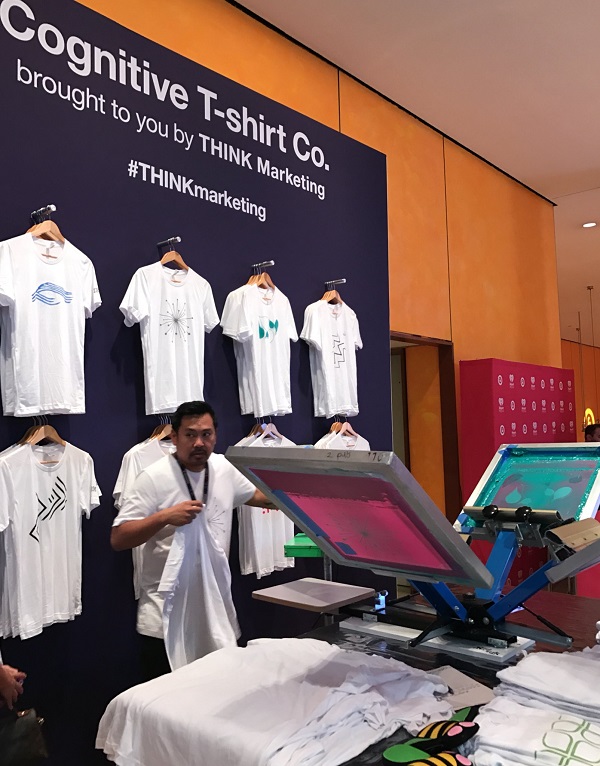 There were eight different personality types and T-shirt designs, but this was merely limited to the logistics of printing t-shirts in real time. Watson's ability to analyze data from multiple sources and across several dimensions could, theoretically, produce an infinite number of outcomes, providing a product that's as individually unique as the customer's personality.
Start to finish, Advertising Week 2016 was a truly engaging, immersive experience.